---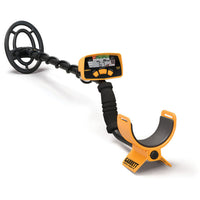 Jump into the wide world of treasure hunting with the Garrett ACE 200 Metal Detector! This device is perfect for the beginner who is looking to get their hands dirty metal detecting for the first time. Garrett has included a Digital Target ID feature into the device that provides a corresponding readout to the specific type of metal buried underneath ground. This allows the treasure hunter to identify what they're going to be digging up even before they put a shovel to the earth. The ACE 200 can also help to determine a target's depth and provide the user with clear, easy-to-understand target signals while doing so.
Garrett has pulled out all the stops on the construction of the ACE 200 and has included camlocks to safely stabilize the stem of the metal detector. This device is perfect for entry level prospecting and relic hunting as well as dry beach and fresh water wading. It's even great for those who want to try their hand at finding coins and jewelry! For the budding treasure hunter who using a metal detector for the first time, the ACE 200 makes a perfect traveling companion and backyard buddy.
Features:
Total Weight : Weighs in at 2.7 lbs (1.2 kgs)
Warranty : Includes 2 Year Limited Warranty
Frequency : Operates at a 6.5 kHz Frequency
Digital Target ID : Digital Target ID Scales From 0 to 99
Ground Mineralization : Adjusts Automatically for Ground Mineralization
Audio : Provides Sharp & Responsive Audio using Pulse-Width Modulation
Construction : Stabilizes Itself with Camlocks for Sturdy Stem Construction
Coin Depth Indicator : Determines a Target's Depth with a Coin Depth Indicator
Push Button Controls :Resets to Factory or User Settings with One-Touch Controls
Factory Included Accessories:
Hardware Set
Owner's Manual
6.5x9" PROformance Search Coil
FREE 2 Year Warranty!