---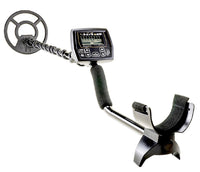 Coinmaster by White's is a strong, well-made metal detector delivering a lot of performance features for a very low cost, exactly what you would expect from White's Electronics. Adjustable Discrimination allows you to select the good finds and tune out un-wanted trash signals. Metal Detecting has never been as easy as when metal detecting for coins and jewelry.
It's a beginner's dream, a metal detector that takes all the guess work out of identifying your finds with a clear easy-to-read display screen. Audio ID and visual target identification works as you are detecting, know what you found before you dig! White's Coinmaster Metal Detector automatically determines the depth of your finds and displays information on the screen. All you need to do is dig up your treasure, it's that easy. Perfect detector for kids, adults, seniors or anyone wanting to have fun exploring for treasures.
Features:
Frequency : 8 kHz
Warranty : 2 Year Limited
Total Weight : 2.5 lbs (1.13 kgs)
Target ID : Shows what you Found, and How Deep to Dig
5 Range Discrimination Control : Eliminate All Trash and Junk Metals
Rugged Control Box : Water Resistant Control Box can be Used at Beaches, Lakes, Etc
Sensitivity Control : Adjust Detector to Changing Ground Conditions at your Command
 Factory Included Accessories:
Owner's Manual
(2) 9 Volt Batteries
9" Waterproof Spider Search Coil
FREE 2 Year Warranty!
.