---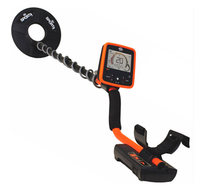 Packed with advanced features and class-leading performance, the MX7 is a lightweight, rugged metal detector built for demanding hobbyists looking to step up to the big-leagues without the sticker shock. At only 3.5 lbs, the MX7 delivers exceptional depth, recovery speed, and ergonomics at an unheard-of price.
For the "beep and dig" types, get started with six preset programs (Coin and Jewelry, All-Metal, Beach, Prospecting, Relic, and High Trash) and easy-to-access threshold, gain, ground, and pinpoint modes. Pressing the Options button accesses more controls, with user-adjustable Volume, Threshold, Depth Units, Backlight Level, Frequency Shift, Salt Track, Program, Self-Adjusting Threshold, Iron Grunt, VCO, Reject Volume, and Discrimination Mask. The included 9.5" concentric coil makes pinpointing targets easy, and offers incredible depth in mild to moderate soils (optional accessory coils include all MX Sport coils).
Due to its 13.9 kHz operating frequency, the MX7 excels at locating smaller targets, such as hammered silver coins and small gold earrings. The MX7 features a robust transmit circuit compared to other models in its price range, and is capable of extreme depths on coin-sized objects. As a relic-recovery device the included Reject Volume can easily identify iron patches as well as help unmask very deep or hidden targets in stubborn sites. A high-powered on-board speaker, rear-mounted 1/4" headphone jack, and large, backlit display complete the design, complimented by the high-visibility black and orange color scheme. IP 54 rated - dust and water-resistant display and box.
Features:
Frequency : 13.9 kHz
Warranty : 2 Year Limited
Total Weight : 3.6 lbs (1.6 kgs)
Threshold : Variable Self Adjusting Threshold (V/SAT)
Water-Resistant: IP 54 rated - Dust and Water-Resistant Display and Box
Fast Recovery Speed : Pick Out Those Good Targets Right Alongside Trash Targets
Backlit Display : Large Backlit Display Shows VDI Numbers, Target ID, Depth and Current Program
Six Adjustable Hunt Programs : Coin and Jewelry, Beach, Relic, Prospecting, High Trash, and All Metal
Reject VolumeTM : Hunt in All Metal to Maximize Depth and Filter Target Responses by the Intensity of Volume
FREE 2 Year Warranty!