---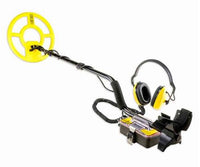 The White's Surfmaster PI Dual Field metal detector is the result of over fifteen years of research and development from one of the most outstanding manufacturers in the treasure hunting business. Pulse Induction technology has been harnessed by White's to create this all new, powerful machine with circuits that reach deeper than any other detector on the most prized jewelry - gold, platinum and white gold.
Depth, sensitivity, ease-of-use, and speed combine to make the Surfmaster PI Dual Field unbeatable on the beach. The all new, large 12" search coil can be swept quickly or slowly across wet, salty sand and water as well as highly mineralized ground with exceptional results and very little resistance.
Features:
Warranty : 2 Year Limited
Frequency : Pulse Induction
Total Weight :4.750lbs (3.8 kgs)
Waterproof : Can Go as Deep as 100' Underwater
Audio : Waterproof Headphones Hardwired into the Unit, Not Removable
Adjustable Pulse Delay : Reduces Black Sand "Noise" Quiet Beaches - More Targets
Factory Included Accessories:
12" Search Coil
Penlight 8AA Battery Holder
FREE 2 Year Warranty!