---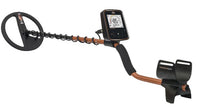 Maximize your treasure hunting at an affordable price with the TREASUREpro. Unlike the preset ground balance on most comparable metal detectors, TREASUREpro's true Automatic Ground Balance adapts to ground conditions as you hunt for increased depth and sensitivity to small targets. With 5 search modes and a big VDI number in the center of the display, you'll be hunting like the pros in no time! Also features a 10" DD search coil for added depth.
With 10" DD Waterproof Search Coil Plus FREE Metal Detecting & Treasure Hunting Accessories
Features:
Frequency : 8.2 kHz
Warranty : 2 Year Limited
Total Weight : 3 lbs (1.36 kgs)
Audio : Built-in External Speaker and Headphone Jack
Discrimination Control : Eliminate or Tune Out "Junk" and Unwanted Targets
Target ID : 8 Tone Audio Target ID Scale Offers the Increased Ability to Distinguish One Target's Conductivity from Another
Factory Included Accessories:
10" DD Waterproof Search Coil
Technical Specifications:
 2 Year Warranty
10"  Waterproof Search Coil
Frequency : 8.2 kHz
Weight : 3 lbs (1.36 kgs)
8 Audio Tones
Pinpoint Mode
8 Target ID Segments
16 Segment Discrimination
Features:
Volume Control
Weather Resistant
All-Metal Operation
Complete Versatility
Adjustable Arm Rest
Big Bold VDI Numbers
Adjustable Discrimination
Turn-On-and-Go Simplicity
Adjustable Threshold Volume
Automatic Ground Balance with AutoTrac
FREE 2 Year Warranty!