---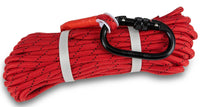 This heavy duty rope is ideal for magnet fishing with our larger magnets. Eight inner strands make it exceptionally strong for its weight and size. Save time and frustration trying to tie the perfect knot - comes with the end sewn, looped with plastic thimble, and heat shrink tubing to keep it from coming undone.  High quality carabiner, rated to 5600 lbs is included with the rope.
Specifications:
    Double Braided Polyester
    3,840 lb Breaking Strength
    1/3" diameter (8mm)
    8 inner strands
    Rot and UV Fading Resistant
    Not suitable for climbing
    100 Feet of Rope
This rope will only fit in the 2,600 LB and 3,600 LB double sided Brute Boxes.