---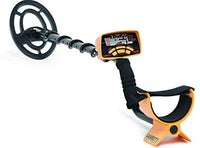 ACE 250 is an outstanding all-around metal detector at a reasonable price. It is easy to tune and easy to use. The ACE 250 is recommended for beginners as well as "old pro's". It can be used to hunt old coins, jewelry, relics, artifacts, buried treasures and other valuables. Charles Garrett says "Our ACE detectors offer excellent depth, rugged design and performance at a price only Garrett can offer. It's no surprise that our ACE's have become the worlds' most popular metal detectors." Of course you'd never expect a detector with this price tag to offer so much greatness. Just one more reason, you need the ACE 250. So hold on tight, the ACE 250 will take you on the treasure hunting adventure of your life!
Features:
Total Weight : Weighs in at 2.7 lbs (1.2 kgs)
Frequency : Operates at a 6.5 kHz Frequency
Warranty : Protected by a 2 Year Limited Warranty
Discrimination Control : Eliminates Trash with Discrimination Control
Audio : Emits Audio from Headphone Jack and Built- In External Speaker
Digital Target ID : Able To Distinguish Targets' Conductivity Using Digital Target ID
Sensitivity Control : Adjusts to 8 Levels of Sensitivity for Differing Ground Conditions
Factory Included Accessories:
Manual
Hardware Set
4-AA Batteries
Arm Rest Strap
Instructional DVD
6.5x9" PROformance Search Coil
FREE 2 Year Warranty!