---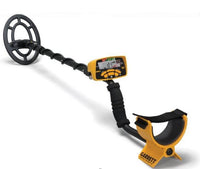 Enhance your treasure hunting experience with Garrett's ACE 300 Metal Detector! This all-purpose metal detector was built with upgraded features for the discriminating hobbyist at an affordable price. It comes with five separate search modes to help treasure hunters locate coins, jewelry, and even lost relics. The Digital ID on the control box quickly determines what's buried below the user's feet so they can choose whether or not they wish to dig it up.
The ACE 300 operates at 8 kHz frequency for greater depth penetration and to allow it to detect high conductivity targets like silver. The frequency of the device can be adjusted for ground mineralization and to shy away from trash iron if the user chooses to do so. In fact, the ACE 300 has four different iron discrimination segments to help the discriminating treasure hunter find exactly what you're looking for.
As an added bonus, Garrett has even included stem locks on the device to make it more stable. No longer will users ever have to worry about a metal detector falling apart while you're out in the field. As such, Garrett is so sure that treasure hunters will love this inexpensive yet high quality device that they are including a two-year limited warranty to help keep their investment secure.
Features:
Frequency : Operates at a 8 kHz Frequency
Total Weight : Weighs in at 2.8 lbs (1.27 kgs)
Warranty : Includes 2 Year Limited Warranty
Construction : Includes Camlocks for Sturdy Stem Construction
Ground Mineralization : Adjusts Automatically for Ground Mineralization
Audio : Provides Sharp & Responsive Audio with Pulse-Width Modulation
Push Button Controls : Resets to Factory or User Settings with One-Touch Controls
Continuous Coin Depth Indicator : Coin Depth Indicator Determines a Target's Depth
Digital Target ID : Indicates the Properties of a Target with a Digital Target ID Scale Ranging from 0 to 99
Factory Included Accessories:
Coil Cover
Hardware Set
Arm Rest Strap
Rain & Dust Cover
Instructional Manual
7x10" PROformance Search Coil
ClearSound Easy Stow Headphones
FREE 2 year Warranty!