---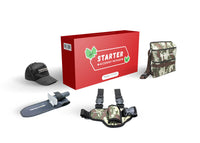 The Nokta Makro Starter Accessory Package includes the following:
Premium Digger - 
7.5" stainless steel blade with cutting edge teeth will cut through roots and difficult soil with ease.
Finds Pouch - 
3 zippered pockets including an internal pocket to store trash and finds separately.
Removable and adjustable belt.

30" to 55"
Thick fabric webbing for attaching your pinpointer or other digging tools.
Pinponter Leg Holster - 
The Nokta Makro Pin Pointer Leg Holster keeps your pin pointer secure and makes it easier to get to than if attached to your waist.  This leg holster is comfortable and secures to your belt and thigh leaving room on your waist belt for more needed equipment.
Nokta Makro Baseball Cap -