---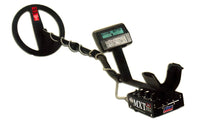 The MXT All-Pro combines popular new features with the proven, legendary performance of the MXT line - it's like having three metal detectors in one! You'll enjoy its all-new keypad, high-efficiency backlight, and Ground Grab settings lock. This favorite comes with a 10" DD search coil.
Just toggle the switch between gold prospecting, coin / jewelry or relic. The MXT All-Pro becomes a specialized metal detector for that type of treasure. MXT All-Pro, the performance found in specialty metal detectors now with the flexibility to hunt for coins, jewelry and relics. With three new programs; coin / jewelry mode, relic mode, and prospecting mode, you will be finding treasure in no time! Each operating mode contains optional search and discriminate methods, i.e. Disc Notch, Mixed Mode Audio, VCO and much more.
Features:
Frequency : 14 kHz
Warranty : 2 Year Limited
Total Weight : 4.2 lbs (1.9 kgs)
Audio : Built-in External Speaker and Headphone Jack
3 Search Modes : Prospecting, Relic and Coin / Jewelry
Automatic Ground Balance : Simple, Lightening Fast and Accurate. From Mountain Minerals to Salt Water
Factory Included Accessories:
10" Double D Search Coil‌
FREE 2 Year Warranty!