---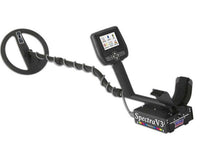 The Spectra® V3i is White's premier metal detector. We've included all our treasure-hunting features, and your investment is backed by a comprehensive 2-year warranty.
The beautiful, full-color HD display clearly explains the depth and metal type of detected objects. The V3i is always ready to go with its rechargeable battery and ready to help with an onboard reference guide.
If you're just starting out, the V3i has 9 presets, giving you turn-on-and-go versatility that fits your terrain and target, whether it's coins, jewelry, relics of the past, or gold nuggets.
Expert users will appreciate the V3i's dozens of optional settings that can be changed in real time via dashboard controls. You'll experience unparalleled depth and sensitivity, even in previously-hunted areas!
The V3i works best with the included wireless SpectraSound headphones. White's premier headset lets you hear every signal with astonishing clarity and without worrying about distractions or tangled cords.
 This Whites Spectra V3i comes with the following items:
Whites Spectra V3i Metal Detector
Wireless Spectra Sound headphones
 Adjustable Length: 44"-52"
All Metal Audio: Array
Audio Output: Speaker & 1/4" Headphone
Batteries: 8 "AA" + NiMH
Battery Life: 8-10
Disc Audio: All Options
Optional Coils: Eclipse Family
Standard Coil: 10" (DD)
Number of Presets: 9
Frequency: 2.5 kHz, 7.5 kHz, 22.5 kHz
Highlights
3 Optimized Hunting Frequencies
3 x 3 Target ID System
9 Preset Hunting Programs
Adjustable Backlight
Color-Keyed Disc Pattern
Dozens of Expert Menu Options
Full-Color High Definition Display Language
Live Controls for Real-Time Adjustments
On-board Quick Reference Guide
Owner Registration (Software Embedded)
Polar Plot Vector Screen
Prospecting Scan
Six-Block Menu
Soil Type Select
Wireless Ready
FREE 2 year Warranty