---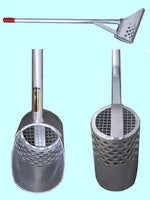 Rental Only - Aluminum 6" water scoop. It is a lightweight shallow water and beach scoop. The aluminum bucket has 5/8" diameter holes punched into the sides and the back of the scoop. The bucket of the sand scoop is 6 " in diameter by 11" long. The aluminum 1-1/4" diameter handle is welded to the top of at a 20 degree so you can use your foot on the back of this scoop to push it into the sand. There is a T-top reinforced aluminum bar to give this scoop durability.  The screen will help you sift the wet sand easier. The handle is 40" long with an over length of 48" long. The handle has an rubber hand grip for comfort.  This scoop weighs 4-1/2 pounds.
(**Available for rental only, must pick up at store)
$25.00 rental fee for 7 days of use.  Security deposit of $150.00 required at time of pickup which will be returned at the end of the rental agreement considering unit is returned in good working order.  A $15.00 per day late fee applies if not returned within the 7 day rental period.